基協校友會

Kei Heep Past Students' Association

九龍黃大仙東頭村道161號基協中學轉交

c/o CCC Kei Heep Secondary School,

161 Tung Tau Tsuen Road, Wong Tai Sin, Kowloon

 
加拿大校友活動網頁
Keiheepers in Vancouver, had a wonderful gathering for our mother school's 45th anniversary which was held on May 15. Even though some of us met at the first time, we were familiar as brothers and sisters returning to a big family. In these four hours gathering, we had a lot of fun. Everyone recalled her or his old school's life and also talked about herself/himself own life in these forty years. Mr. Yuen and Mr. Tang also told us how and why to set up Evening classes in the Seventy decade. The purpose to set up Evening classes was to help students to complete Form 4 and Form 5 courses before our mother school was re-organised to the 5 years course secondary school. Their great contributions to the school are very much appreciated.

Group photo (Front Row from left to right: Mr. Yuen Pui San's wife, Mr. Yuen's grandson, Mr. Yuen Pui San, Mr. Tang Kin Wing. Back Row from left to right: Chung Wah Sang(C6/67), Lau Kit Man(C3/67), Chan Wing Cheong(C1/67), Yue Kam Lai(C3/66), Chan Wai Yee(C3/68), Danny Cheung(Chan Wai Yee's husband), Yip Mui(C1/68), Philip Lee(Yip Mui's husband), Lau Lai Fong(C3/68)). Even though Chan Chiu Kee(C3/68) could not join the gathering, we thank his helps to arrange this delicious dinner. And Lam Wan Kam(C1/68) could not join with us because she is in Hong Kong now. but she may have good chance to join the big anniversal party in Hong Kong.
 

The celebration of Keep Heep's 45th anniversary was finally completed in the atmosphere of happiness on May 23, 2009 (Saturday) at China Buffet King Restaurant in Toronto. We thank Principals Mrs. Cho for her efforts to make this event possible and successful. It was such a memorable event because we had a total of 31 adults and 3 children attended & the range of graduates from 1966 to 1997 (31 years apart).

It was a great opportunity for all the Kei Heep's graduates in oversea to meet together & share our lives in Toronto in order to gain support and encouragement from each ther. We exchanged our treasured photos & annual school magazines from the past for viewing. We also selected James Hui Kin Man and Sanne, Cheng Shuk Wei as our Contact Persons in Toronto.

Shared photos

photo of Chow King-lit and Kwok Hop-seung's daughter wedding party in Edmonton (from left to right: Cheung So-Chun Amy(C1/66), Chow Lia-kuen Grace(C1/65), Brenda and Justin(bride and bridegroom), Kwok Hop-seung Wendy(C2/66) and Chow King-lit Robert(C6/66)
Former teacher: Ng Tau Mo and his family
the photos of Nov 11, 2008 gathering in Vancouver

From the left handside of the picture: Elsie Kam Lai YUE (C3/66), Pui Sang YUEN's grandson, Pui Sang YUEN's wife, Mr. Pui Sang YUEN (former Principle), Simon Chiu Kee CHAN (C3/68), Abraham Kit Man LAU (C3/67), May Mui YIP (C1/68) and Annie Wan Kam LAM (C1/68).
 

the photos of Nov 11, 2008 gathering in Vancouver

WHILE THE SCHOOL AND ALL THE KEIHEEPER AROUND THE WORLD ARE READY TO CELEBRATE OUR 45TH ANNIVERSARY.OUR LITTLE GROUP ONLY 4 KEIHEEPER IN EDMONTON ALREADY HAVE OUR CELEBRATION DONE ON MAY 2. THE 4 OF US (GRACE,周麗娟 OF 1965, AMY TSANG 張素珍 OF 1966, ROBERT CHOW 周景烈 OF 1966 AND WENDY CHOW 郭合想 OF 1966) GET TOGETHER ON MAY 2ND SATURDAY MEETING IN ONE OF THE CHINESE RESTAURANT EARLY IN THE MORNING FOR YUM CHA.
4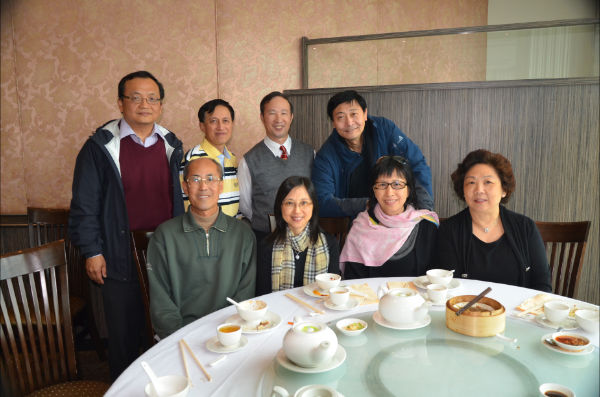 Hi,Alan:On Oct 2011 we have a lunch gathering with Fritz Tam (66/C3)who came from Toronto to Vancouver to pay visit his friends.

In the photo from left to right(above):

in front: Fritz Tam (66/C3), May Yip (68/C1), Hazel Chan (68/C3), Elsie Yue (66/C3)
at the back: Abraham Lau (67/C3), Philip Lee (May's husband), Simon Chan (68/C3), Danny Cheung (Hazel's husband)

We are glad to have gathering with other alumni come to visit us when they have travel to Vancouver. That can keep our big family's relationship in the world.

May

 

各位多倫多基協老師和校友:


  你們好。時間過得很快,基協實用中學由施得理校長於一九六三年創校後,至今已五十年了。基協在歷任校長和老師的努力下,日漸茁壯,已由三年制改為五年制的中學。畢業生遍佈世界各地,各有所成。
  回首在校的日子,相信不論是老師或同學都未能忘記,因為那是流金歲月:學生的基礎是那時打下的、師生的感情是那時種下的、純真的友誼是那時培植的、奮鬥的精神是那時形成的。還記得開放日的盛況麼,開放前的努力準備,開放日那天校友們蜂擁回校找老師聚舊,同學相見嘻嘻哈哈話舊等等盛事,都仍歷歷在目吧,瞬間已五十年了。除了家庭外,母校的生活和情誼都是難能可貴,難以忘懷的。
  在港的母校大事慶祝,我們寄居海外的也可以有同樣心懷,相聚遙賀,把杯暢談。希望你們盡量撥空十二月十四日,報名參加,在那天與老師,同窗或同校師兄弟姊妹歡快地相聚吧,更希望帶同你們的伴侶及子女一起參加,等著見你們。祝
冬季安好
                     曹黃肖玉啟
二零一三年十月廿二日

 

---
Dear friends:

I am glad to inform that the lunch gathering to celebrate mother school's 50th Anniversary will be held on Dec 7th at 12:00 in Sun Sui Wah Restaurant (Main Street).

In my record the following friends will attend this gathering:
Simon Chan
Josephine and Chung
Hazel and Danny
Annie and Jackson
May and Philip

I will invite our former teachers Mr. Yuen and Mr. Tang to join our lunch gathering.

The other friends please join our gathering when you are free on that date.

Regards,
May Yip

 

前校長袁沛生及校友

(多倫多,2014年六月)
 
Vivian Cheung from Canada and 1970's classmates
- October 3, 2014
(Front row 2nd from left)
 
 

校友劉月儀自加拿大歸來2014年11月20日

今天農曆新年聚會真有意思,我們暢談近況外還有額外節目欣賞,有舞獅又有財神拜年,增添不少節日氣氛。

我們在此再向各位拜年,祝各人身體健康,萬事勝意!

May Yip - 22/2/2015